ARIEL II's 4-year Restoration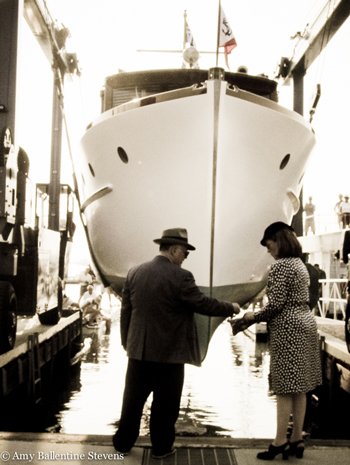 Design: Sidney Herreshoff ~ 46' Power Cruiser
Originally Built: 1931 ~ Herreshoff Manufacturing Co. in Bristol, RI
Rebuilt: 2005 ~ Ballentine's Boat Shop, Inc., Cape Cod, MA
History:
The decade after the market crash of 1929 was undoubtedly tough on the yachting industry. Even the venerable Herreshoff Manufacturing Company (HMC) in Bristol, RI saw a sharp decline in new orders. With few notable exceptions, the construction of new sailboats continued sluggishly, the majority of contracts being 12 1/2s, S-Boats, and smaller racing dinghies. However, the construction of new power yachts ceased almost completely, with less than two dozen built throughout the 1930s, many of those being smaller launches.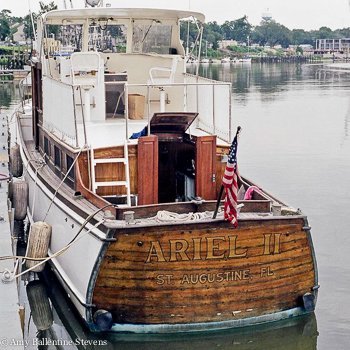 One of these was ARIEL II, a 46ft power cruiser style yacht built for William Woodard in 1931. Designed by Sidney Herreshoff, ARIEL II was a slight modification on an earlier HMC yacht, STROLLER. Similar to many yachts of the same period, ARIEL II was drawn with simple, yet elegant features.
From her nearly plum bow to the gentle tumblehome aft, ARIEL II's profile illustrates a yacht of classic character and style. Her resemblance to other yachts of the era quickly become irrelevant when realizing the craftsmanship and detail that went into both her original construction by Herreshoff Manufacturing and her reconstruction at Ballentine's Boat Shop.
Much of ARIEL II's life after initial launching and until her discovery, unused but afloat in Florida, is unknown. At the time of her purchase, ARIEL II's condition was heavily modified, both mechanically and cosmetically. Her interior cabinetry had been altered to fit non-marine appliances and her exterior profile drastically altered with the attachment of a disagreeable flybridge. Engines had been changed over the years from the original Sterling gas engines, to the extreme GM 671 diesels, and back to the more reasonable Cummins 4 cylinder diesels in place at present.
Restoration: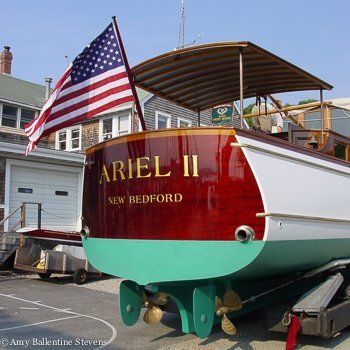 Her large size prevented any reasonable transportation overland to Ballentine's Boat Shop on Cape Cod, where her restoration was to be completed. The determination was made to make the trip North via water and the intra-coastal waterway. At 68 years old, ARIEL II's condition proved necessary the use of pumps running nearly continuously during the trip North.
Upon her safe arrival in Massachusetts, ARIEL II was hauled and the complete picture of her condition became clear. The decision was made to approach the restoration with an eye towards renewing ARIEL II to her original integrity instead of attempting to save and repair her original materials, much of which were beyond saving.
Over the ensuing four-year restoration, no piece of ARIEL II was left untouched. Working from the building and detail plans obtained from the MIT Hart Nautical Collection, the restoration was completed with close attention paid to reproducing her original look while utilizing material and method upgrades where prudent. This allowed ARIEL II to remain true to her period aesthetics while enhancing her usable longevity. When possible, areas of her interior were saved, refinished and reused, primarily some raised panel cabinetry for patina. However, even these areas were fortified, as in the main saloon bulkheads. Before re-fitting these panels, high quality marine plywood was fitted as a core to increase their overall rigidity and strength.
Her backbone was beyond repair and required replacement. Her new keel, stem, and forefoot were built of Angelique, a South American hardwood. The transom was layered and glued in Cedar and Mahogany and framed in Locust. The original frames were replaced throughout with steamed White Oak. Less than half of her hull's planking was deemed reusable. The damaged planks were removed and replaced with South American Silver Bali with a adhesive layer of Sikaflex in between layers of the double planked construction.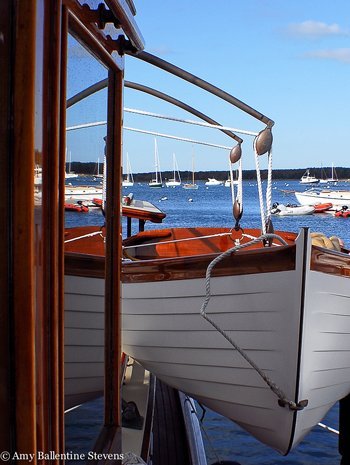 We also constructed a tender that was part of the original plans. Originally we thought that it had never been built, but a past owner sent us pictures of the boat and she clearly has a dinghy nestled aboard. Somewhere along the way the tender was lost and there was no evidence of her on board ARIEL. With the tender's plans from MIT we constructed CALABAN and her unique storage system. The davits are made of Silicone bronze arms that, when deployed, hold CALABAN away from the hull and lower her to the water with a block and tackle system. For stowing, the whole system pivots in and cradles the tender on deck.
Throughout the restoration process, the compromise between traditional styling and modern features was addressed thoughtfully. Her owner wanted to retain ARIEL II's original character, while incorporating modern technology like navigation electronics, climate control, and a multi-zone audio system. Working closely with the team at Nor'East Marine, this was done discreetly with all traces hidden within the teak paneling and bronze accents.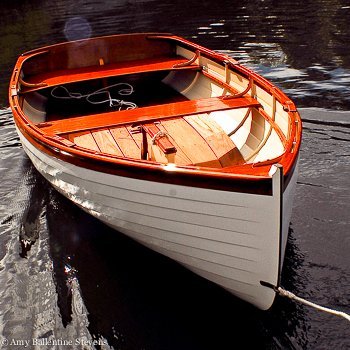 The need for future maintenance or replacement of mechanical, plumbing, and wiring features was also a major concern in re-establishing her layout. All of these systems would require easy access without causing damage to existing cabinetry or structure. No piece of equipment or system was exempt from this requirement. Overhead wiring was tastefully hidden in bronze conduit serving as handrails with details designed by Steve Ballentine. Major systems including generator, water maker, and climate control are easily maintained with ample access. The engine room was built with additional overhead access via removable panels in the cabin sole and a removable section of pilothouse roof for when the time comes for rebuilding or replacement.
ARIEL II's Layout:
As you step aboard, you are introduced to her warm and bright pilothouse. Large windows are incorporated into the varnished raised panel teak cabin, affording a clear 360-degree view from the helm. Aft of the sliding doors is comfortable bench seating.
From the helm station, you have all controls and navigational equipment comfortably within reach. Artfully concealed beneath hinged cabinetry to port are duel Furuno Navnet VX2 multifunction plotters with integrated radar data from the 40" 4kw Furuno array. A Simrad AP35 Auto Pilot has been recently augmented with a Furuno SC-30 Satellite Compass.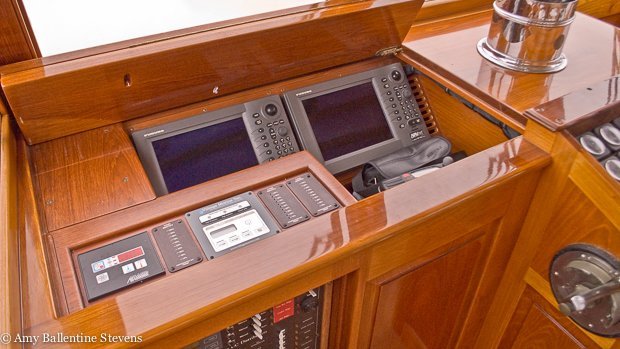 The forward cabin is accessible by a passageway to starboard of the helm station. Descending the partially spiraling staircase, you have single berths to either side with plenty of built-in storage below. A large opening butterfly hatch provides excellent daytime illumination and ventilation. A mix of traditional oil lamps and electric fixtures are installed throughout. Continuing forward is one of two enclosed heads, featuring electric toilets and porcelain sinks.
The rest of ARIEL II's accommodations are aft of the pilothouse. These include a small, but fully equipped galley to starboard with a custom built in refrigerator and freezer, a Luke Heritage Gas Stove, double sink, and more storage. Opposite of the galley is the primary head with shower.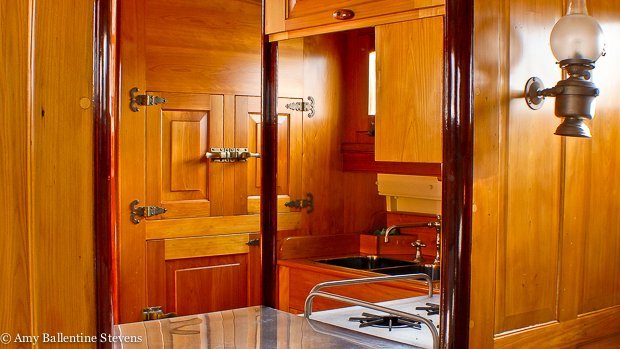 Aft of the galley is the main saloon with single berths to port and starboard. Again, storage has been built into the cedar and mahogany cabinetry. Rectangular windows along the length of her cabin sides, many of which open to allow ventilation, provide a wealth of natural light.
One of ARIEL II's most enjoyed features is her generous aft cockpit. This covered space provides the perfect vantage point to enjoy both her smooth motion underway and beautiful New England sunsets at anchor. Original to the design, this cockpit has comfortable room for four and can be fully enclosed when the weather is less than ideal.
ARIEL II was originally built with little expectation of lasting three quarters of a century. Fortunately, because of efforts by previous owners, ARIEL II was saved from the fate many of her yacht peers faced. Her restoration was completed with the intention of ARIEL II not only being a vessel cherished by her current owners, but to be enjoyed by generations to come.
---
ARIEL II Restoration Photo Gallery - click any image below to launch gallery and auto-play... or use keyboard arrows to navigate or controls on image hover. Finger swipe on mobile.
ARIEL II and CALABAN return to us every year for a thorough maintenance regimen. She relaxes all winter in our heated shed, that is fortuitously positioned on a natural spring, keeping her hydrated and fresh thoughout the winter. She looks as good as the day she was relaunched.
---
Ariel II - She is For Sale!
Click player to see video
---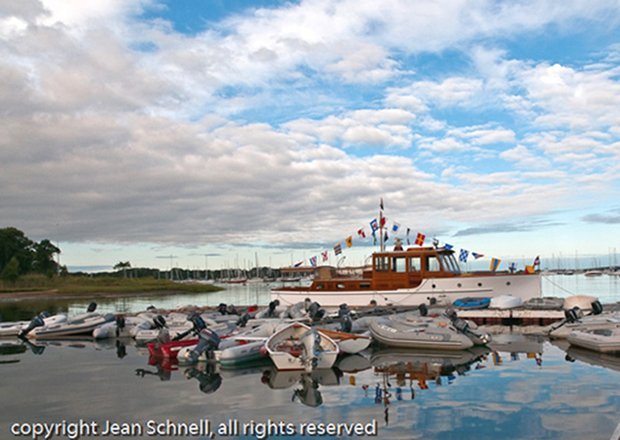 ---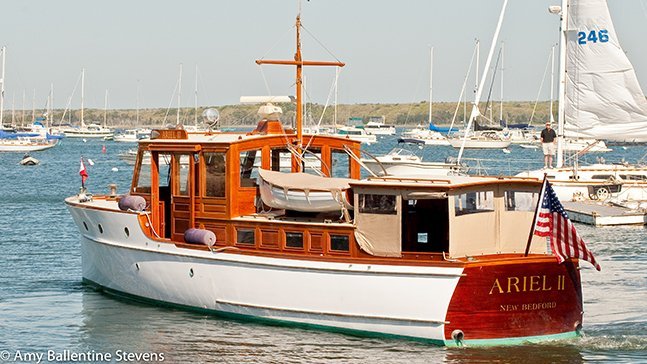 ---