New Boats for Sale: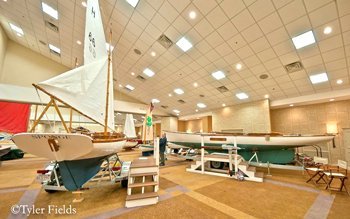 NEW Stuart Knockabouts For Sale:
2015 - 28' Stuart Knockabout - Fiberglass
L. Francis Herreshoff was partial to the advantages of comparatively shallow draft designs. He compensated for this factor by employing longer waterlines, easily driven body plans and sensible, moderate-sized rigs and sail plans. The Stuart Knockabout is a splendid example of these basic design principles. She is exceptionally fast and, therefore, a joy to sail. She also has surprising power and is not slowed perceptibly by an oncoming sea. She is comfortable and forgiving, and with every unnecessary piece of complicated gear absent, what is left is an uncluttered, simple, easily handled thoroughbred.
In building each Stuart Knockabout, we have endeavored to preserve the essence of the original wooden boat and advance the comfort and sailing performance in a more forgiving and easier to maintain version. The foam cored fiberglass hull construction is also lighter and permits the addition of 400 pounds of keel ballast, bringing the completed boat to her designed displacement, thereby increasing her capability to carry sail into a good breeze.
Stuart Knockabouts are used in PHRF racing and there are a few class races popping up on the East Coast. These easy and wonderful sloops have even been placed on large vessels and mega yachts for a fun daysailing option when at port.
We are currently taking orders!
New boats are made in Massachusetts and can be shipped all over the world. Call to place your order, or for additional information: 508-563-2800
---
Follow the links to other BBS NEW Listings on Yachtworld.com for details.
Cape Cod Shipbuilding Shields
This boat is brand new and never used. It was bought in 2008 but unfortunately never put in the water. It has a dark green hull with a white boot stripe and a red bottom. The Bottom was specially coated with epoxy barrier coat and bottom paint.
---
Used Boats for Sale:
PRE-OWNED DOUGHDISHES For Sale:
Follow the links to our Doughdish listings on Yachtworld.com for details.
1992 16' Doughdish Herreshoff No. 304 - 12.5 - Fiberglass
Doughdish No. 304 was built by Edey and Duff in 1992. Her current owner purchased her in 2004 and has maintained her to a professional level of quality and condition. The teak brightwork has been varnished yearly, bottom painted with anti-fouling, and stored under a custom Harding Sails Winter cover. Doughdish No. 304 is in great condition and is available fully equipped.
---
1983 16' Doughdish Herreshoff No. 163 - 12.5 - Fiberglass
Doughdish No. 163 was built by Edey and Duff in 1983. She is in solid condition, but has a few issues that would need attention and has been priced accordingly. This Doughdish would make an excellent Winter project. After a season of attention, she would once again look new and provide many years of enjoyment.
---
1981 16' Doughdish Herreshoff No. 171 - 12.5 - Fiberglass
CAT'S PAW was built in 1981 by Edey and Duff. She remains in solid condition. The brightwork shows signs of wear. While not a structural worry, these areas would benefit from extra attention this winter. The bottom also shows signs of excess paint build up. Taking the opportunity to strip, fair and re-finish the bottom would also be a great improvement.
---
1979 16' Doughdish Herreshoff No. 440 - 12.5 - Fiberglass
Doughdish was built in 1979 and is in kept shape. She is currently on Martha's Vineyard. The inner transom was kept raw but could be revarnished if that is desired.
---
PRE-OWNED STUART KNOCKABOUTS For Sale:
Follow the links to our Stuart Knockabout listings on Yachtworld.com for details.
1998 - 28' Stuart Knockabout, SK No. 29 - Fiberglass
Stuart Knockabout No.29 was built in 1998 by Edey & Duff of Mattapoisett, MA. She was purchased last Fall in Alabama and brought to the Cape for a complete restoration. Due to years of no use, she had deteriorated substantially. Once at our shop, the process began with removing all damaged areas of the boat and beginning again. Her restoration is nearly complete and she is now available for purchase.  No area of SK29 has remained untouched. The comprehensive restoration has brought her back to her original condition and beauty. This is a great opportunity to own Stuart for more than $30,000 off the price of a new hull.
---
1989 - 28' Stuart Knockabout BLACK LION, SK No. 3 - Fiberglass
BLACK LION, SK No. 3, was built in 1989 by Edey & Duff of Mattapoisett, MA and sailed in the waters of Buzzards Bay and Vineyard Sound. She is well maintained by Ballentine's Boat Shop and fully equipped with extras: Cradle, New Sails in 2012, Genoa and Spinnaker, Winter Cover and Frame, Outboard motor mount and Honda Outboard
---
1991 - 28' Stuart Knockabout HIGH COTTON, SK No. 11 - Fiberglass
HIGH COTTON was built in 1991 by Edey and Duff. She has been well maintained by Rumery's Boat Yard and was purchased with many factory extras, including upgraded teak seats. Along with both main and jib sails, she comes with a genoa and spinnaker. Cockpit and jib covers are in serviceable condition and an outboard with motor mount are included in the sale. She also has a Custom Triad Trailer.
---
2004 - 28' Stuart Knockabout FRIM FRAM, SK No. 63 - Fiberglass
This 2004 Stuart Knockabout is in great condition and has many extras. Included in her sale is a triad trailer, installed electric bilge pump, 2 hp outboard motor, Raymarine TriData, bronze genoa blocks and tracks.
---
Other BBS PRE-OWNED BOATS FOR SALE:
Follow the links to our other BBS listings on Yachtworld.com for details.
Able Marine IOD International One Design
*PRICE REDUCTION*
Built in 1988 by Able Marine, DESPERADO has been well cared for and sensibly upgraded by the current owner. Originally set up as a one design race boat complete with custom pedestal in the cockpit to handle most running rigging, great effort has been made to convert her into a fast Gentleman's Day-Sailor. She is easily solo-sailed or could be a great platform for a crew. She can remain a wonderful Gentleman's Day-Sailor or, with little effort, can be legally raced in any IOD class race or regatta.
---
Willard Trawler 40
IKE is a former captains gig off of the aircraft carrier Eisenhower. She is a solid boat having been built for the navy and her custom refit has made her a comfortable cruiser with an intriguing look. She is a distinctive and classic design.
---
SHEARWATER - Haven 12 1/2 Eric Dow

SALE PENDING
The Haven 12 ½, designed by Joel White, is a modification of the legendary Herreshoff 12 of 1914. This able sloop takes the graceful lines from one of N.G. Herreshoff's greatest designs and reduces the draft enabling sailing of shallower waters.
---
Hood / Little Harbor Shoal Draft
Quickly after stepping aboard JAVA, you realize the ingenuity, quality and craftsmanship behind this custom Ted Hood designed Little Harbor 45. She is the last and largest of 5 boats designed for her exacting owner. As each boat was built and sailed through her paces, the design evolved and refined. JAVA is the end product of decades of sailing experience.
---
Quincy Adams Interclub
This boat is a 1937 Adams Interclub. She is hull #1 of a small fleet (possibly 14 boats total) built by the Quincy Adams Boat company. She is a great day sailer and could also race in PHRF.
---
Quincy Adams Herreshoff 12
WEE CAPA is an original Herreshoff 12 built by Quincy Adams in the 1940s. She has her original builders plate and is Hull # 2030. WEE CAPA has been in the same family for 50 years and has been well loved, and actively sailed and raced. She is built with mahogany planking over oak frames.
---
Ballentine's Boat Shop Shellback Dinghy
The Joel White designed Shellback Dinghy is as classic and beautiful as it is versatile and functional. This sailing dinghy can be used as tender for larger boats or as a small recreational boat. It rows and tows wonderfully and can be equipped with a optional sailing rig.
---
Nielsen 41' centerboard yawl
HUSSAR is a great example of a classic Aage Nielsen design. She is a versatile and lovely cruiser that has carried it's current family from NY to Nova Scotia, over 20,000 miles.
---
See our most recent Brokerage Listings Newsletter for new and used boat listings