Boats for Sale: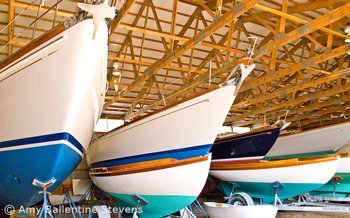 While brokerage is not our main focus, we do offer a limited inventory of classic boats and special vessels. In most cases, the vessels we represent have been maintained here at Ballentine's Boat Shop or are of special quality, design or history.
Our listings, both sail and power, cover a wide range of styles and abilities. From small, classic daysailers to capable offshore passagemakers. After more than 40 years in the industry, we have the experience and knowledge to help buyers and sellers through the process and to help our vessels find the right next caretakers.
We have new Stuart Knockabouts under construction at Ballentine's Boat Shop, available for order and customizing. These boats fit perfectly in a 40' container and can be shipped anywhere in the world. PHRF racing and Class Racing have developed in recent years, if you are a Yacht Club or interested in multiple boats, please ask us about Fleet Pricing. Contact us for details 508-563-2800
---
☆ ☆ FEATURED BOAT ☆ ☆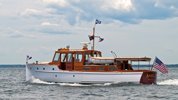 ARIEL II - 1931 Herreshoff Power Cruiser
Please Call for Price - 508-563-2800
From her nearly plum bow to the gentle tumblehome aft, ARIEL II's profile illustrates a yacht of classic character and style. Her resemblance to other yachts of the era quickly become irrelevant when realizing the craftsmanship and detail that went into both her original construction by Herreshoff Manufacturing and her reconstruction at Ballentine's Boat Shop.
---
BBS BOATS FOR SALE:
DESPERADO - 1988 Able Marine IOD
*PRICE REDUCTION* - $ 49,000.
Built in 1988 by Able Marine, DESPERADO has been well cared for and sensibly upgraded by the current owner. She is in excellent condition with a careful owner's yearly improvements to both her performance and finish.
---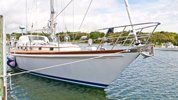 JAVA - Hood / Little Harbor - $ 325,000.00
Quickly after stepping aboard JAVA, you realize the ingenuity, quality and craftsmanship behind this custom Ted Hood designed Little Harbor 45. She is the last and largest of 5 boats designed for her exacting owner.
---
HUSSAR - 1964 Nielsen 41' - $ 110,000.00
HUSSAR is a great example of a classic Aage Nielsen design. She is a versatile and lovely cruiser that has carried it's current family from NY to Nova Scotia, over 20,000 miles.
---
ROZINANTE - 1965 Herreshoff -
PRICE REDUCED! $125,000 to $ 95,000.00
This Rozinante was originally built in 1965 by Kenner Boat Company. She was bought in 2004 and embarked on complete restoration that took over 2000 hours and a couple years. Special attention was paid to authenticity and the level of detail and care put into her restoration is second to none.
---
ASPASIA - 1994 Sakonnet 23 - $ 30,000.00
ASPASIA is an excellent design and built to the highest standards of quality. Whether joining a competitive fleet, downsizing from a larger boat, or looking for a simple daysailer ASPASIA fits each of these niches nearly perfectly.
---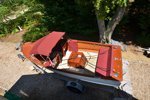 MEANT TO BE - 1955 Chris-Craft - $ 14,000.00
Beautiful classic Chris Craft, with lots of original pieces. Well maintained and in good condition. Painted Lapstrake runabout with Varnished deck, cushions, canvas and new custom trailer.
---
STUART KNOCKABOUTS For Sale:
SK No.39 HENRIETTA $ 52,000. Aggressively price by a motivated seller. With yearly varnish, bottom paint and topside care, SK39 remains in excellent condition and includes good sails and covers.
---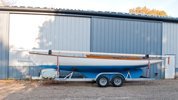 SK No. 63 FRIM FRAM - $ 65,000. (price reduced!)
This 2004 Stuart Knockabout is in great condition and has many extras. Included in her sale is a triad trailer, installed electric bilge pump, 2 hp outboard motor, Raymarine TriData, bronze genoa blocks and tracks.
---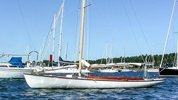 SK No. 3 BLACK LION - $ 55,000.
Built in 1989 by Edey & Duff of Mattapoisett, MA, Black Lion sailed in the waters of Buzzards Bay and Vineyard Sound. She is well maintained by Ballentine's Boat Shop and fully equipped with extras.
---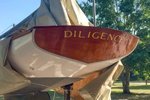 SK No. 31 DILIGENCE - $ 68,000.
DILIGENCE was built by Edey and Duff in 1998 and is now available through her owner in Florida. Recent work has brought her condition back to nearly new and can be made "launch ready" before her final sale. She includes working sails in serviceable condition as well as a lightly used genoa. A motor mount and outboard storage tray are also included.
---
DOUGHDISHES For Sale:

TWILIGHT DD 208 - $ 22,000.
Doughdish No. 208 was built in 1986 and has been well maintained by a knowledgeable owner and benefited from an extensive refurbishment in the spring of 2016. The work completed included: re-finishing of the teak brightwork, painting the decks and new sail covers. This fall, the bottom will be stripped and the gaff jaws will be replaced.
---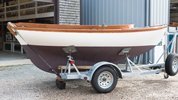 TAKU DD 325 - $ 27,000.
Doughdish No. 325 was built by Edey and Duff and is in good condition and would make an excellent option for daysailing and racing. The varnish brightwork is in solid condition and the bottom is fair.
---
ANGEL DD 158 - $ 17,500.
Doughdish No. 158 was built by Edey and Duff is in solid condition, but would benefit from some cosmetic attention. She has a few spots of gelcoat damage on her topsides and minimal blistering along her waterline.
---
BA ZING - Doughdish 500 - $ 30,000.
Doughdish No. 500 was built by Edey and Duff of Mattapoisett, MA in 2005. BA ZING has been sailed little and all in fresh water. She is in great structural condition and the sale includes: good sails, covers in "like new" condition and a custom Triad trailer. Available for viewing by appointment only...
---
Doughdish 400 - $ 29,500. [SALE PENDING!]
Doughdish No. 400 was built by Edey and Duff in 1998 and has been well maintained by Ballentine's Boat Shop. She remains in great condition with all her yearly work already completed. She has also been upgraded with the bronze hardware option. DD 400 is available for viewing by appointment only...
---
Doughdish 084 GOOD TIMES - $ 16,000.
Built in 1979 by Edey and Duff of Mattapoisett, MA. GOOD TIMES has not been launched for a few years, but remains in solid condition. She is currently in storage on Martha's Vineyard, MA and available for viewing by appointment only...
---
Visit more BBS NEW and USED Listings at Ballentine's Boat Shop on Yachtworld.com.
---