The Restoration of Ben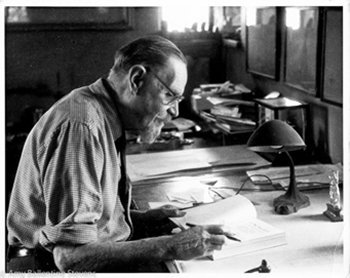 History... L. Francis Herreshoff designed this stunning boat in 1932 for Mr. Willoughby Stuart. Her plans are entitled 28' Knockabout - Design No. 53. Mr. Stuart's boat was built in 1933 and named BEN MY CHREE*, Gaelic for "darling of my heart", BEN for short. He took her to his island home on Casco Bay, Maine, built a boathouse and railway for her, and she remained in the area for over 40 years, enjoyed by him and his family.
No true sistership ever followed, perhaps because the boat was kept in relative obscurity, or because for some time the country was in hard times and customers for yachts were few and far between.
In the mid 80's Bill Harding found her in a barn on the North Shore of Massachusetts. It was then owned by Mr. Stuart's grandson. Bill fell in love with her, bought her and set about on a project to build her in fiberglass. See The Stuart Knockabout website for more information on the fleet that came from BEN's lines.
Years later, she came back to Ballentine's in need of a restoration. We are excited to have brought this classic and historical boat back to her original glory.
Here is a video of BEN sailing after her restoration. We would like to thank Mark Whittaker again for the use of his wonderful music.
*BEN MY CHREE is a scottish dialect in the more common Irish Gaelic it is spelled: Bean Mo Chroi.
---
---
The Original Herreshoff Stuart Knockabout No.53
Ben Restoration Gallery - click any image below to launch gallery and auto-play... or use keyboard arrows to navigate or controls on image hover. Finger swipe on mobile.
---
For more extensive and up to date pictures of her progress see BEN's photo album on Facebook or visit our Stuart Knockabout Web site.
---