Stuart Knockabout...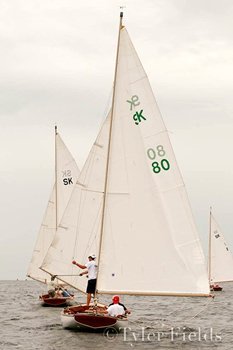 E&D Stuart
becomes...
Stuart Knockabout LLC
With the closing of Edey & Duff in 2010, and Bill Harding's retirement, Steve Ballentine and his daughter Amy Ballentine Stevens bought the molds and rights to continue building and marketing the Stuart Knockabout. Stuart Knockabout LLC is located at Ballentine's Boat Shop where final construction, finish and sales take place.
The Stuart Knockabout is an excellent option both for people wishing to upgrade from a smaller daysailer, and those wanting to experience a more simple alternative to their large cruisers. The Stuart Knockabout has been a great next step for many Herreshoff 12 1/2 sailers because the SK offers more flexibility and excitement, while retaining the classic aesthetic. The larger boat owners have also enjoyed the SK for their next boat because of it's convenience and ease of sail. How many owners of cruising sailboats habitually day-sail their boats? How much better off might some be in a really fine day-boat? The Stuart is easy to get underway and quick to put to bed with or without a crew.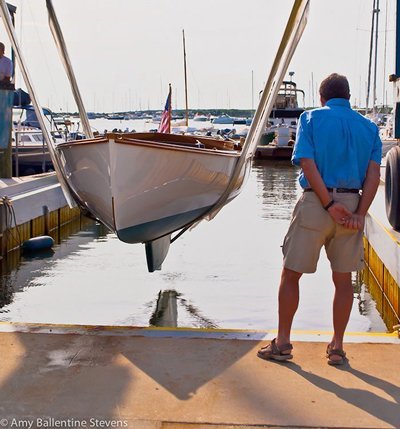 The Knockabout's rig is really quite conservative, especially compared to other early designs. She carries only 265 sq. ft. of sail, and the plan is nicely divided for sail handling and delicately balanced steering. Despite this moderate sized sail plan, she's surprisingly fast in light winds and she certainly is when it breezes up. A good, deep-keeled, modern racing design of comparable weight and size with 100 sq. ft. more sail area may have a slight advantage in real light going, but the situation is reversed when it freshens a bit. The mainsail is equipped for slab reefing and the jib also can be reefed to its club. A Genoa can be added to her sail plan, and it really livens her up in wind under 12 knots.
If you would like to know more about these boats, or would like to go for a test sail, please Email Us or visit our Stuart Knockabout, LLC Web site.
Currently taking orders! New Stuart Knockabouts are made in Massachusetts and can be shipped all over the world. Call to place your order or for additional information: 508-563-2800
Stuart Knockabout - Overview and Specs (PDF)
---
Building of SKATE: SK No.80
SKATE Photo Gallery - select any image below to launch photo gallery and auto-play... or use keyboard arrows to navigate or controls on image hover. Finger swipe on mobile.